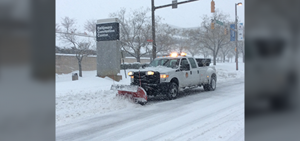 It is not explicitly illegal, but it is recommended by all jurisdictions that you should clear snow off your car. The driver's manuals in Maryland and Virginia both include snow removal.
Is there a Maryland law that says that you should not be able to have snow on your car so it does not come flying off and blind me?   Sort of.  Transportation Code §21-1104 states that a person may not drive a vehicle if obstructs the driver's view of the front or sides of the vehicle. They may not drive a vehicle if it interferes with the control of the driver's. However, the law would likely have a broad application in cases involving snow on top of cars. But no one is going to pull you over for having too much snow on your case.
About a decade ago, the D.C. city council approved legislation that required drivers to remove snow and ice from their vehicles. However, the law never became permanent.