Left-hand turn accidents can make for difficult and complicated auto accident lawsuits. An accident involving a left-turn can cause devastating injuries and determining fault is not always as easy as it might seem.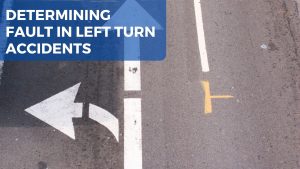 At first glance, determining fault in left-turn accidents may seem simple because the driver making the left turn has an obligation to yield to oncoming traffic.  That simple assumption is correct in the lion's share of cases.  When you call our law firm and telling us another driver to a left turn in front of you, our lawyers are pretty confident, without hearing anything else, that you have a case.  Similarly, if you are the driver who took a left turn, it might be pretty hard to argue you are not at fault.
But… you have to hear the entire story.  Because the assumption that the driver who made the left turn is at-fault sometimes fails.  This is particularly true, as I explain below, in Maryland and Washington, D.C.