Sciatica is a type of nerve pain that my team and I repeatedly hear about from our auto accident clients. It is also known as lumbar radiculopathy. Below, I outline this condition, what causes it, treatment options, and similar conditions.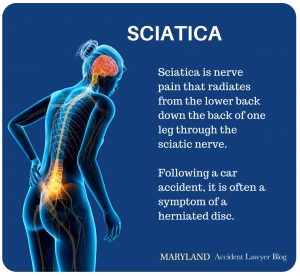 What is sciatica?
Sciatica is pain that runs down the back of the leg. It is named after the sciatic nerve, a nerve that originates in the lower lumbar spine and then travels down the back of both legs. Sciatica pain is felt all along this nerve, from the lower back, to the pelvis, hips, and buttock, and to the thighs.
This pain is usually described as shooting jolts of pain, and sometimes as a burning pain. Sitting or standing in one place for a long time or certain movements, such as twisting, may cause more severe pain.
What causes sciatica?
Car accidents commonly cause nerve damage because the sudden stop or change in direction causes injuries to the spine. These injuries are often minor enough that they don't immediately seem problematic, but they may result in nerve pain that can last for months or years in severe cases.
Sciatica after a car accident may be a symptom of one of the conditions described below.