A California jury has awarded a $1.1 million verdict to a man who sued his landlord after a slip and fall. Plaintiff fell down the stairs at his apartment on January 1, 2010, and later developed disk injury and symptoms of lumbar strain. A houseman for a wealthy San Francisco family, Plaintiff was forced to quit his job because of the pain. Torres sued the property owner alleging that he failed to keep the stairs clear of slippery algae, and did not install a handrail, as required by local code. The owner or his insurance company let the case to trial. Bad choice. A jury awarded Torres $1,070,801 for economic losses, including $850,000 for future lost earnings. Plaintiff's slip and fall attorney said, "If the defendant had provided the minimum protection of a building code-required handrail, at a cost of less than $100 and an hour of time, this lawsuit would have never been necessary…." This really makes you step back and think. As a retired general contractor, Fleming could have installed the handrail himself. What made him think it was worth the risk NOT to install the handrail? Plaintiff and his family had moved to the apartment in 2008 after losing his Novato home to foreclosure. Hopefully, with a million-dollar verdict, he'll be able to find another home. Maryland slip and fall cases are now getting a bit easier to get to a jury after a recent Maryland Court of Appeals opinion that softens Maryland's still somewhat Draconian assumption of the risk law.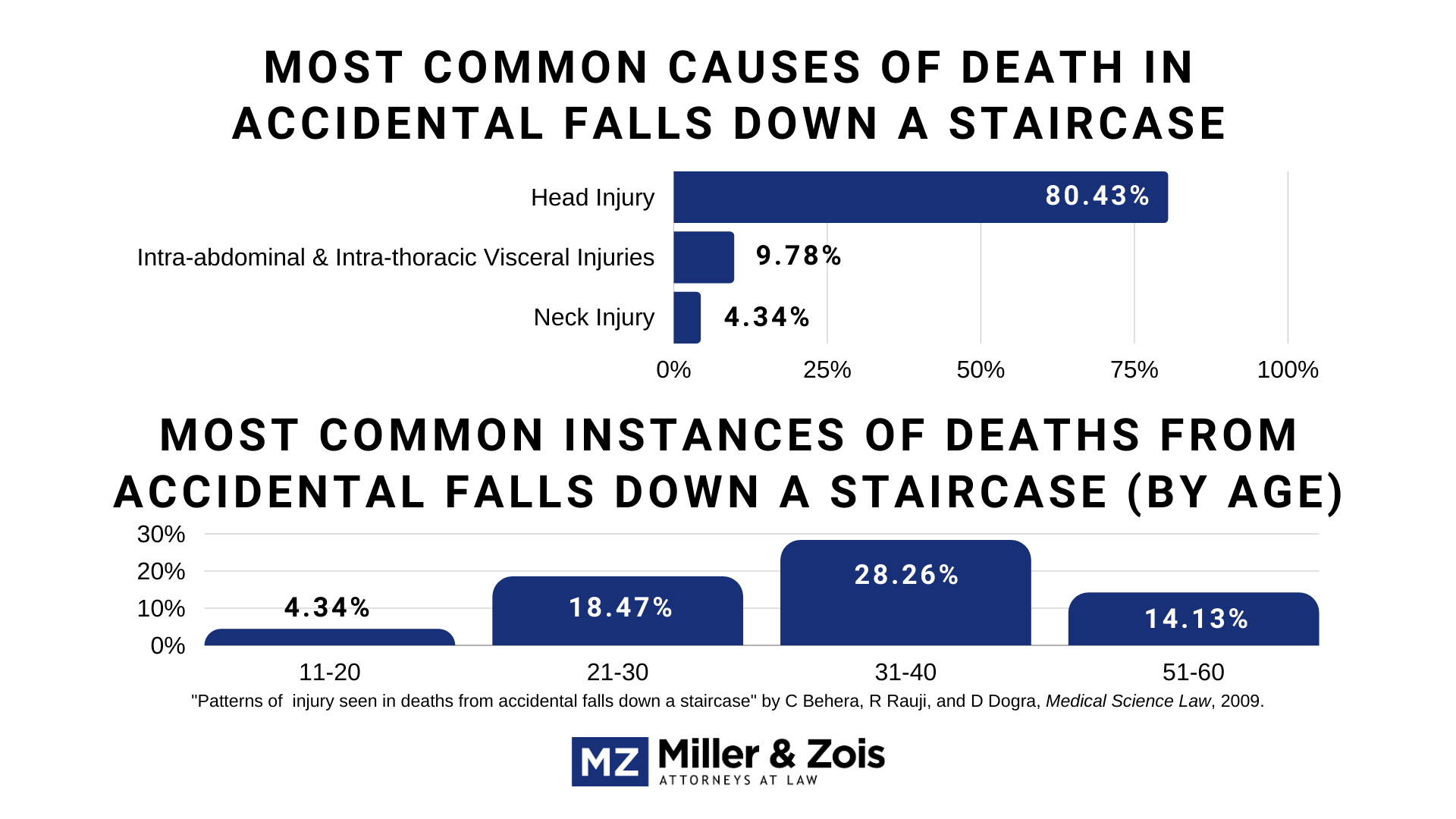 Slip and Falls Involving Stairs Verdicts and Settlements 
A woman suffered soft-tissue injuries after slipping and falling on a liquid substance in a public hospital's stairwell. The woman alleged that the County of Los Angeles maintained dangerous premises. The defendants denied liability, arguing that they did not know of the dangerous conditions. This case settled for $65,000.
A 47-year-old man fell and hit his head after a stair spindle dislodged as he walked downstairs of his fiancée's apartment. He suffered brain compression, intracranial hemorrhage, traumatic subdural hematoma, right hemiparesis, a head laceration, and a tongue laceration. The man also suffered headaches, aphasia, memory loss, and delirium. He alleged that the property owner knew of the dangerous conditions, allowed it to exist, and failed to repair it. The property owner denied liability, arguing that the man's negligence caused his fall and injuries. This case settled for $280,000.
A man suffered severe and permanent injuries after he fell on an apartment's stairs. He alleged that its owners negligently allowed liquid substances on the stairs and failed to replace a missing handrail. The complex's owners argued that the man was negligent for failing to prevent his fall. A jury awarded the man a $1,100,000 verdict.
A 40-something man fell downstairs while leaving his sister's apartment complex. He suffered a shoulder tear and an L4-5 herniation. Despite undergoing arthroscopic surgery, he claimed permanent shoulder pain and limitations. He also underwent pain management injections and a rhizotomy. Both procedures failed to resolve his herniated disc, prompting the man to undergo fusion surgery. He then underwent revision fusion surgery after doctors discovered that they needed to extend the fusion. The man claimed that his permanent spinal pain increased his risk of adjacent segmental disease. He also claimed that his inability to perform manual labor would result in lost future income. This case settled for $1,175,000.
A plumber slipped and fell downstairs while renovating a vacant apartment. He suffered severe and permanent neck, knee, and ankle injuries. The man alleged that the apartment's owner failed to maintain safe work conditions. A jury awarded $3,300,000. This comprised $100,000 in past medical expenses, $200,000 in past lost wages, $1,000,000 in past pain and suffering, and $2,000,000 in future pain and suffering.
A man's foot became caught on a cracked tile of a subway station's stairway. This caused him to fall and suffer unspecified injuries. He alleged that the New York City Transit Authority and Metropolitan Transit Authority knew of and failed to repair the cracked tile. A jury awarded a $600,000 verdict.
A business invitee fell down a nightclub's exterior stairs, causing her to suffer bilateral patellar tendon ruptures that left permanent disfigures and scars. The woman also claimed the bottom stair's slope differed from the other stairs, alleging that this defect caused her fall. The nightclub's owners denied liability, arguing that her ruptured tendons called her fall rather than the other way around. They claimed that her high body mass index predisposed her to tendon ruptures. A jury awarded $200,000.
A 72-year-old man tripped and fell on a house's exterior steps. He suffered tendon ruptures to both quadriceps. Despite undergoing surgery, he claimed that his quadriceps pain was permanent and caused limitations. The man claimed that the stairway's loose bricks caused his fall. He alleged that the landlord failed to inspect and repair the defect. This case settled for $525,000.