Jury Verdict Research reports on a study it conducted that found that in the last ten years, the overall median compensatory award for soft tissue knee injuries, strains, and cartilage and ligament damage is $40,972. The average trial value of knee injury cases involving knee lacerations, contusions, and inflammation is $57,884 ($8,952 median). The average verdict for a knee strain case is $70,055 ($10,412 median). The average verdict for a chondromalacia knee injury (abnormal softening of the knee cartilage on the underside of the patella) is $215,434 (median is $45,000). I think these numbers are a bit low, but they are of interest to lawyers trying to determine how much is the settlement value of their knee injury case.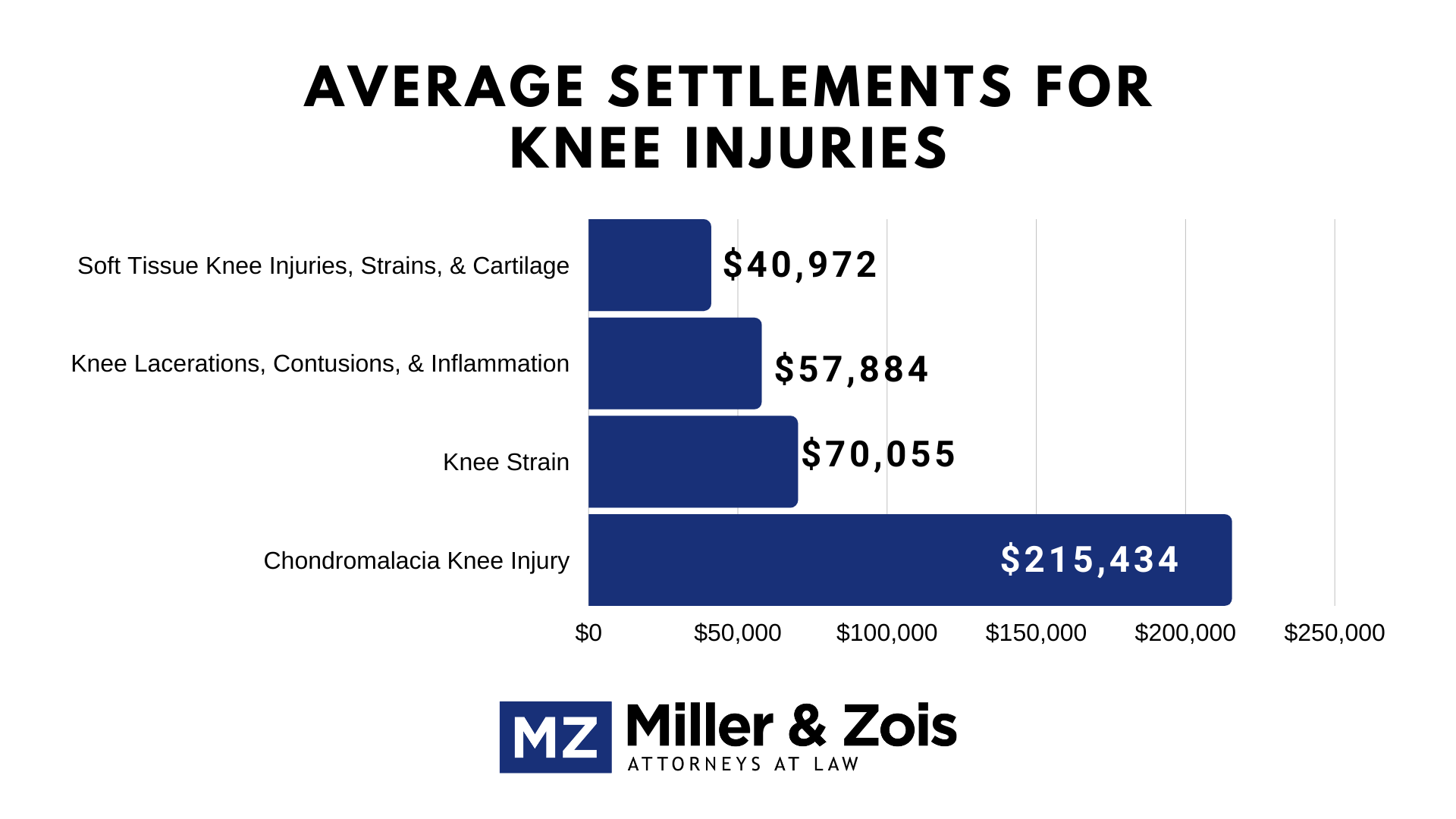 Knee Injury Settlements and Verdicts
A woman lost control of her vehicle and hit an embankment. Her 16-year-old passenger suffered sprains to her right knee and back. The woman's insurer, Allstate, agreed to settle the teenager's claim for $10,000.
A CVS employee suffered injuries to her right knee, right ankle, back, and other parts of her body after she slipped on a floor mat while at work. She alleged that the accident caused her to suffer from knee-buckling, which caused her to suffer additional falls. The woman claimed that her injuries left her permanently disabled. This case settled for $195,590.
A woman's vehicle was rear-ended at an intersection. She and her passenger suffered whiplash. They sought chiropractic therapy for several weeks to treat their whiplash injuries. The woman also suffered a torn meniscus and the aggravation of her formerly asymptomatic knee arthritis. She initially underwent cortisone injections, which failed to resolve her knee injury. The woman then underwent arthroscopic surgery on her knee, which was unsuccessful. Following the procedure, the woman underwent two additional cortisone injections, which were also unsuccessful. Multiple orthopedic surgeons recommended that she undergo knee replacement surgery. The woman claimed that the collision aggravated her previously asymptomatic injuries. A jury awarded the woman $500,000 and her passenger $7,748.
A motorist ran a red light at an intersection and T-boned a man's vehicle on New Year's Eve. The man was brought to the hospital, where he was diagnosed with a partial tear to his ACL. He underwent four weeks of physical therapy. His injury did not resolve, and he underwent knee surgery a year later. Following the procedure, he underwent four months of physical therapy. The man claimed that he now experienced issues with squatting, bending, running, and standing for extended periods. This case settled for $150,000.
A man suffered a shattered right knee, a right heel fracture, and 4th and 5th right metatarsal fractures after another vehicle struck his vehicle in a parking lot. He underwent knee reconstruction surgery for treatment. His treating orthopedist testified that the collision increased the likelihood of knee revision surgery in addition to knee replacement surgery. This case settled for $890,000.
A laborer fell nine feet from a scaffold's platform while working on repairs in a church's vestibule. An ambulance transported him to the hospital, where he was diagnosed with a meniscus tear, an MCL tear, a retinaculum tear, knee crepitus, a SLAP lesion, multiple disc bulges and herniations, and chronic elbow bursitis. He initially underwent physical therapy that failed to resolve his pain. Five months later, the man underwent surgery to his left knee. The procedure involved a chondroplasty, a meniscectomy, and a synovectomy. Three months later, the man underwent corticosteroid injections to address his elbow bursitis and nerve-block injections to address his disc injuries. About two years later, he underwent arthroscopic surgery to his right shoulder. The following year, he underwent right elbow surgery. Despite undergoing multiple forms of treatment, he continued to experience residual pain and diminished range of motion. He was unable to return to work as a laborer. The man claimed that he needed additional pain-killing injections, the implantation of a neurostimulator, and lower back surgery. He alleged that the premises' owner failed to provide safe working conditions. His expert neurologist also testified that the scaffold's defects caused the accident. This case settled for $2,000,000.
A 60-something man proceeded through an intersection and collided with a vehicle that had just made a left turn. An ambulance transported him to the hospital, where he was diagnosed with a right meniscus tear and multiple cervical disc herniations. He initially underwent physical therapy, which was ineffective. The man also underwent a knee arthroscopy, which failed to resolve his knee pain. He ultimately underwent knee replacement surgery. The man continued to experience residual knee and neck pain, which prevented him from returning to work. He also claimed that he would need to undergo knee revision surgery. The man alleged that the other driver ignored a stop sign and failed to yield the right-of-way before making a left turn. A jury awarded a $1,550,000 verdict. However, the man could only recover the stipulated $750,000 limit.