Paralysis is one of the worst injures our Maryland car accident attorneys handle.  A recent Jury Verdict Research report confirms what you would to find about personal injury verdicts for paralysis: younger plaintiffs receive higher verdicts and settlements. Plaintiffs 17-years-old and under receive a median verdict in personal injury cases of $15,500,000.
Plaintiffs 50 years-old and older receive $3,358,428. The average paralysis verdict is $13,854,992; the median paralysis verdict is $6,935,774. Approximately 65% of paralysis patients come from motor vehicle accidents, medical malpractice, or product liability cases.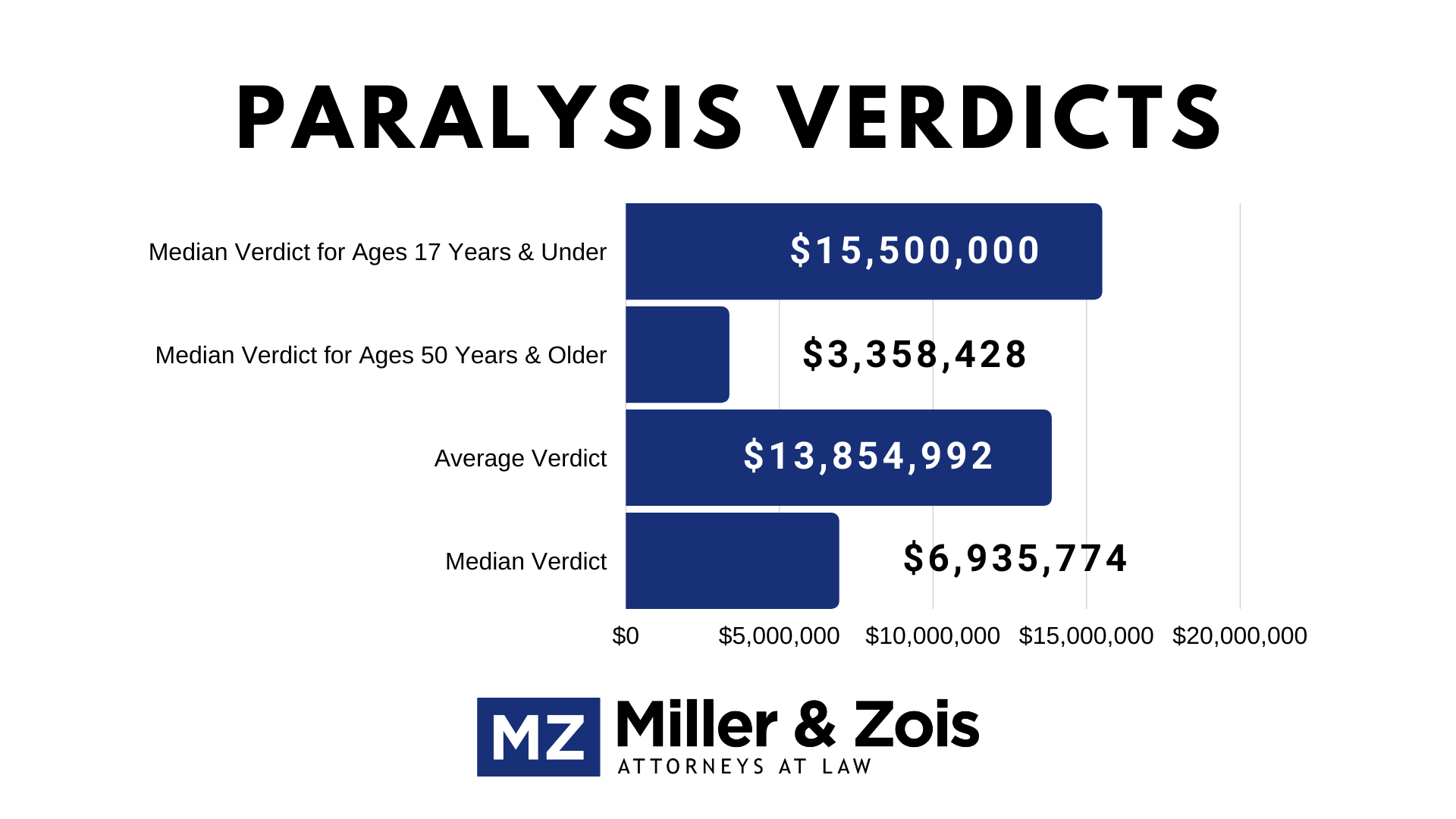 Are these big numbers?  They are.  But, really, it is never "fair" compensation in these cases.  No paralyzed client ever puts money in their pocket from a settlement or verdict and feels like justice has been done.  Because there is no amount of money that can make things right.  You just hope to get enough compensation to make your life and the lives of the people you love a bit easier.  
The average quadriplegia verdict is over $20 million. It is crazy to say $20 million sounds low. But it does.
Keep in mind when we are talking about paralysis in this context we are talking about a victim being unable to move his or her legs.  We also see a lot of vocal paralysis cases but that is a different animal.  
Paralysis Verdicts and Settlements
Below are sample settlements and verdict where the victim was paralyzed from the negligence of another party: 
A 67-year-old man suffered a dislocated T5-6 fracture that left him a paraplegic after his Hyundai Elantra was rear-ended. The man alleged that his driver's seat's lack of an active head restraint caused his injury. He also alleged that Hyundai negligently removed it to save money. Hyundai denied liability, arguing that the man's pre-existing spinal condition caused his paraplegia. They also argued that he would have developed paraplegia had he operated another vehicle. The jury determined that the other driver was 16 percent negligent and Hyundai was 84 percent negligent. They awarded a $38,164,263 verdict.
A 7-year-old boy underwent an orchiopexy to treat his undescended testicles. During the procedure, the anesthesiologist applied anesthesia that caused an allergic reaction. This caused severe hyperthermia that led to cerebral infarction, leg paralysis, multi-organ failure, bilateral ankle deformities, and vision impairments. The boy's mother alleged that the anesthesiologist's failure to check his body temperature caused his complications to worsen. She argued that the timely administration of denaturation would have prevented the development of her son's cognitive and intellectual impairments. The case settled for $2,194,264.
A 14-month-old boy presented to the emergency room after choking on food. The physicians attempted a bronchoscopy. During the procedure, the boy went into cardiac and respiratory arrest. They removed the bronchoscope and attempted to resuscitate him. During the physicians' resuscitation attempts, a foreign object dislodged and came up the endotracheal tube. Ventilation resumed and the boy's oxygen saturation levels improved. However, he sustained hypoxic-ischemic encephalopathy and respiratory distress. This led to spastic quadriplegic cerebral palsy that left him unable to walk, crawl, sit, speak, or swallow solid foods. He also suffered vision loss and bladder and bowel incontinence. His family claimed that the physicians failed to timely remove the foreign object and failed to manage properly the boy's respiratory distress. They argued that their negligence caused the boy's permanent injuries. The physicians denied negligence, arguing their care adhered to acceptable medical practices. This case settled for $1,000,000.
A 49-year-old man presented to the hospital with a fever, left arm and index finger numbness, and sensation loss. He underwent a cervical spine CT scan. The radiologist interpreted the results as normal. The following day, another radiologist interpreted the same results as showing cervical epidural abscess. The man underwent surgery, which failed to resolve his loss of sensation. He was left paraplegic and used a walker for ambulation. The man alleged that the initial radiologist's negligence delayed treatments and allowed the untreated abscess to cause his paraplegia. The jury determined that the initial radiologist was 40 percent liable and the non-party medical providers were 60 percent liable. They awarded a $14,490,000 verdict.
A 62-year-old man slipped on construction debris while walking upstairs to his friend's apartment. He fell to the ground, hit his head and shoulder, and injured his spine. The man could not move and remained in the stairwell until another tenant discovered him eight hours later. He sustained a severe spinal injury that left him a quadriplegic. The man alleged that the building owner and construction company failed to maintain safe premises. The defendants denied negligence, arguing that the man's negligence caused his fall and injuries. This case settled for $1,200,000.
A tractor-trailer turned left and struck a man's pickup truck, causing it to flip over and eject the man. The man suffered a C5 burst fracture that left him a quadriplegic. He also suffered shoulder injuries, a skull fracture, and a hip fracture. The man argued that the truck driver's negligence turn caused his injuries. The truck driver denied negligence, arguing that the man failed to see him signal a left turn. He also argued that the man's failure to wear a seatbelt caused his ejection and injuries. The jury found both parties 50 percent negligent and awarded $40,145,909.
A Domino's delivery driver pulled in front of a man's vehicle, causing him to swerve to avoid a collision. As a result, the man's vehicle flipped over. The collision left him a paraplegic. He died a year later from a pulmonary embolism, a quadriplegia complication. His wife alleged that the delivery driver's negligence caused the collision and her husband's quadriplegia. She also made a vicarious liability claim against the Domino's franchisee. A jury awarded the widow an $8,977,789 verdict.
A man was biking with his wife along their gated community's promenade, near a golf course. The man was ejected from his bike after striking a stanchion post. He suffered spinal cord injuries that left him a quadriplegic. Because of his injuries, he could no longer work as an accountant. He claimed that the stanchions were hazardous conditions and violated Florida building codes. The man also claimed that the homeowner's association failed to warn of hazardous conditions. The homeowner's association denied liability, arguing that the stanchions could be seen from over 200 feet away, which left enough time for a cyclist to avoid them. They also disputed the man's future lost earnings and life-care expenses. A jury found that the homeowner's association did not negligently maintain the promenade but found that they failed to warn of hazardous conditions. They found them 45 percent negligent, the man 50 percent negligent, and the golf course 5 percent negligent. The jury awarded a $41,050,000 verdict.