A head-on truck accident is a type of motor vehicle accident that occurs when a truck hits a vehicle traveling in opposite directions, and they collide directly into each other. When a head-on truck accident happens, the consequences can be devastating, as the impact is usually severe due to the size and weight of the trucks involved.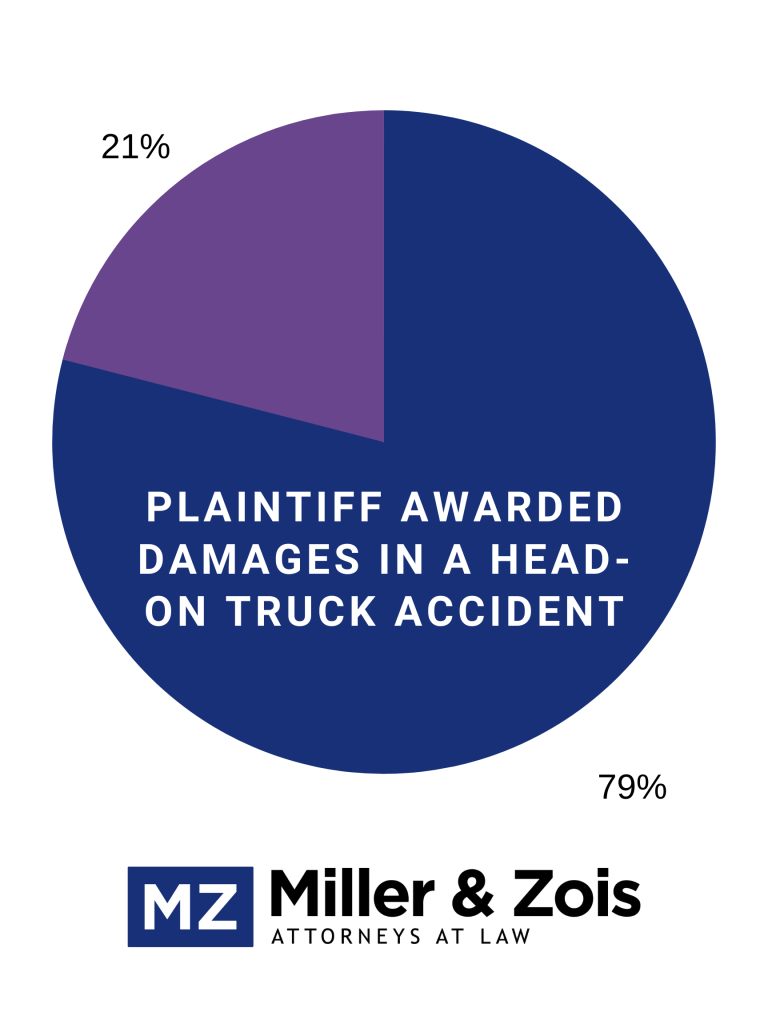 The most severe car or truck accident is a head-on collision. You would expect settlement amounts and jury payouts to reflect this.
A recent Jury Verdict Research study found that 79% of plaintiffs involved in a head-on truck accident—defined as a truck accident where at least one of the vehicles traveled across the centerline, with a truck causing the damages—received a damage award.
The median damage award in a head-on truck accident case is $ 242,150. I did not see the average truck accident jury award, but I suspect it is well over $1 million.
Head-On Truck Accident Verdicts and Settlements
2020, California: $5,500,000 Settlement. A truck driver crossed the double yellow line and struck a 31-year-old man's vehicle head-on. The man suffered a traumatic brain injury and unspecified injuries to his neck, back, shoulder, and knee. An ambulance brought him to the hospital from the scene. He immediately underwent surgeries on his shoulder and knee. The man sued the truck driver for negligently operating his vehicle. He argued that the truck driver caused the collision by crossing the double yellow line. The man also sued the truck driver's employer for vicarious liability. The defense argued that the man drove distracted and could have avoided the collision if he had paid attention to the road. This case settled for $5,500,000.
2020, Idaho: $5,000,000 Settlement. An intoxicated truck driver struck a 71-year-old woman's vehicle head-on, killing her. Her estate sued the man's employer for negligently entrusting their employee with a company truck. They also claimed management knew the man was drinking on the job but failed to reprimand him. The case settled for $5,000,000.
2019, Washington: $3,850,000 Settlement. A dump truck entered a right-hand curve on a highway and lost control of its 30-foot trailer with a Genie Lift secured on top. The Genie Lift then fell off the trailer, slid into the oncoming lane, and collided with a man's vehicle head-on, killing his fiancée. He and his fiancée's 6-year-old daughter survived the collision but suffered severe injuries. They sued the truck driver for negligence and the truck's owner for vicarious liability. This case settled for $3,850,000.
2019, California: $1,200,000 Settlement. A tractor-trailer crossed the double yellow line and struck a married couple's truck head-on. The husband suffered fractures to his right femur, right tibial plateau, and a rib. He underwent multiple surgeries to treat all his injuries. The wife suffered fractures to her right knee, right hip, left femur, left humerus, left foot, five ribs, and pelvis. She underwent surgery on her right hip and femur. They both underwent rehabilitation therapy for a lengthy period. The couple sued the truck driver's insurer, alleging that the man negligently operated his tractor-trailer. They also sought payment of their UIM benefits from their insurer, AAA. The truck driver's insurer agreed to tender his $1,000,000 policy, and AAA agreed to pay $200,000 in UIM benefits.
2018, Michigan: $1,910,000 Verdict. A 46-year-old man died after a dump truck struck his vehicle head-on on a local highway. His estate sued the dump truck driver, alleging that he improperly controlled his vehicle and excessively sped in poor weather conditions. The jury found the truck driver 80 percent liable and the deceased 20 percent liable. They awarded the estate a $1,910,000 verdict.
2018, Florida: $3,383,093 Verdict. A westbound tractor-trailer entered the eastbound lane and struck a 47-year-old man's dump truck head-on. A helicopter transported the man to the hospital. The man suffered fractures to his right eye socket, nose, L4 disc, right femur, right tibia, right fibula, right ankle, and two ribs. He also sustained lip lacerations. He underwent lumbar fusion surgery on the same day as the accident. The next day, he underwent open reduction and internal fixation surgery on his right leg and nasal reconstructive surgery. He remained hospitalized for eight additional days. The man was then transferred to a rehabilitation facility, where he remained for 10 days. He had in-home care for about six months. The man also underwent steroid injections, stem cell, and facet block injections. His doctor also testified that his femur fracture affected his knee cartilage, causing osteoarthritis. The man claimed that his physical injuries prevented him from returning to work. He now used a cane to help him walk. The jury ruled in favor of the man and awarded him a $3,383,093 verdict.
2017, North Carolina: $4,118,911 Verdict. A man died after being a passenger in a pickup truck struck head-on by a tractor-trailer. His estate sued the truck driver's employer for vicarious liability. They alleged that the company's employee failed to stay in his lane, excessively sped, and failed to maintain a proper lookout. The jury awarded $2,000,000 to the deceased's minor daughter. Post-trial, the case settled for $2,118,911.
2016, New Jersey: $430,000 Settlement. A 30-year-old man suffered left hand and wrist fractures and a separated left shoulder after his dump truck was struck head-on by another dump truck. He underwent closed reduction surgery to his left hand and wrist and arthroscopic surgery to his left shoulder. The man claimed permanent pain and limited range of motion to his neck, wrist, and shoulder. He returned to work but experienced difficulties with significant loading. The parties reached a $430,000 settlement before trial.
How Truck Accident Cases Are Valued (who lawyers and insurance companies put a settlement value on a truck accident case)
Truck Accident Settlements and Verdicts (more Jury Verdict Research data)
Truck Accident Verdict Data (even more data)
Truck Accident Cases (general overview)