The State of Maryland has taken significant measures to prevent distracted driving. This includes imposing stricter penalties and promoting campaigns to discourage it.
Distracted driving
 Distracted driving is causing Marylanders to die every day.  COVID is as awful as they say.  But, in the long run, distracted driving is going to kill more Marylanders.  It is the public health crisis that gets 1/on-millionth of the attention.
Distracted driving occurs when a driver performs other activities while driving. This especially involves smartphone use. There are four types of driver distractions:
Visual: Keeping one's eyes off the road
Auditory: Listening to something unrelated to driving
Manual: Handling other items instead of the wheel
Cognitive: Thinking of other things besides driving
 Maryland distracted driving statistics
The statistics are mind-numbing.
Around 85 percent of distracted driver-related collisions occur in the Baltimore and Washington metropolitan areas.
Distracted driving is a growing problem in the state. In 2022, there were over 14,000 crashes involving distracted drivers in Maryland, resulting in over 3,000 injuries and over 50 fatalities.
Cell phone use is a leading cause of distracted driving. In 2022, over 4,000 crashes in Maryland were caused by drivers using their cell phones while driving.
Young drivers are particularly vulnerable to distracted driving. In 2022, drivers under the age of 25 accounted for nearly 40% of all distracted driving crashes in Maryland.
Distracted driving is more common during peak travel times. Over 60% of all distracted driving crashes in Maryland occur during the rush hour periods of 6 a.m. to 9 a.m. and 3 p.m. to 6 p.m.
Distracted driving is especially dangerous on highways and interstates. In 2022, over 70% of all fatal distracted driving crashes in Maryland occurred on highways and interstates.
Distracted driving-related collisions comprise 45 percent of all collisions.
Maryland's distracted driving laws
Maryland law prohibits drivers from using their phones while driving. The only exceptions involve turning the phone on or off and initiating or terminating a call. First-offenders face an $83 fine. Second-time offenders face a $140 fine. Third-time offenders face a $160 fine. Exceptions are made for emergency calls to 9-1-1, a hospital, a fire department, a police department, a first aid squad, or an emergency medical service provider.
Drivers reading or sending a text while driving may be ticketed. They face a $70 fine and one point. If they caused a collision, they face a $110 fine and three points.
What is Jake's Law?
Jake's Law imposes strict penalties on distracted driving that results in serious or fatal injuries. It went into effect in 2014. Three years earlier, a distracted driver killed 5-year-old Jake Owen. At the time, the at-fault driver only paid a $1,000 fine. With the passing of Jake's law, distracted drivers now face a $5,000 fine and a year in prison if they cause a serious or fatal injury.
The key provisions of Jake's Law include:
Increased penalties for serious traffic offenses: Jake's Law increases the penalties for drivers who cause serious accidents due to reckless or negligent behavior. For example, drivers who cause severe injury or death while driving under the influence of drugs or alcohol can face increased fines and longer jail sentences.
Enhanced safety requirements for commercial vehicles: Jake's Law requires commercial vehicles to be equipped with additional safety features, such as automatic braking systems and collision avoidance technology, to reduce the risk of serious accidents.
Improved data collection and analysis: The law requires the Maryland Department of Transportation to collect and analyze data on serious accidents, with the goal of identifying trends and patterns that can inform future road safety initiatives.
Increased public education and outreach: Jake's Law includes provisions for increased public education and outreach efforts aimed at promoting safe driving practices and raising awareness about the dangers of reckless and negligent driving.
MDOT's Toward Zero Deaths campaign
The Maryland Department of Transportation (MDOT)'s Toward Zero Deaths (TZD) campaign aims to eliminate traffic-related fatalities and injuries. One of their major focus areas includes distracted driving. The following are examples of how the TZD campaign focuses on this issue:
"Park the Phone Before You Drive": This campaign provides materials and resources on distracted driving prevention. They also provide law enforcement outreach to ensure that Maryland's distracted driving laws are properly enforced.
The Maryland Strategic Highway Plan aims to eliminate auto-related fatalities and injuries. One of their six emphasis areas including distracted driving. Their goal is to get everyone to drive distraction-free.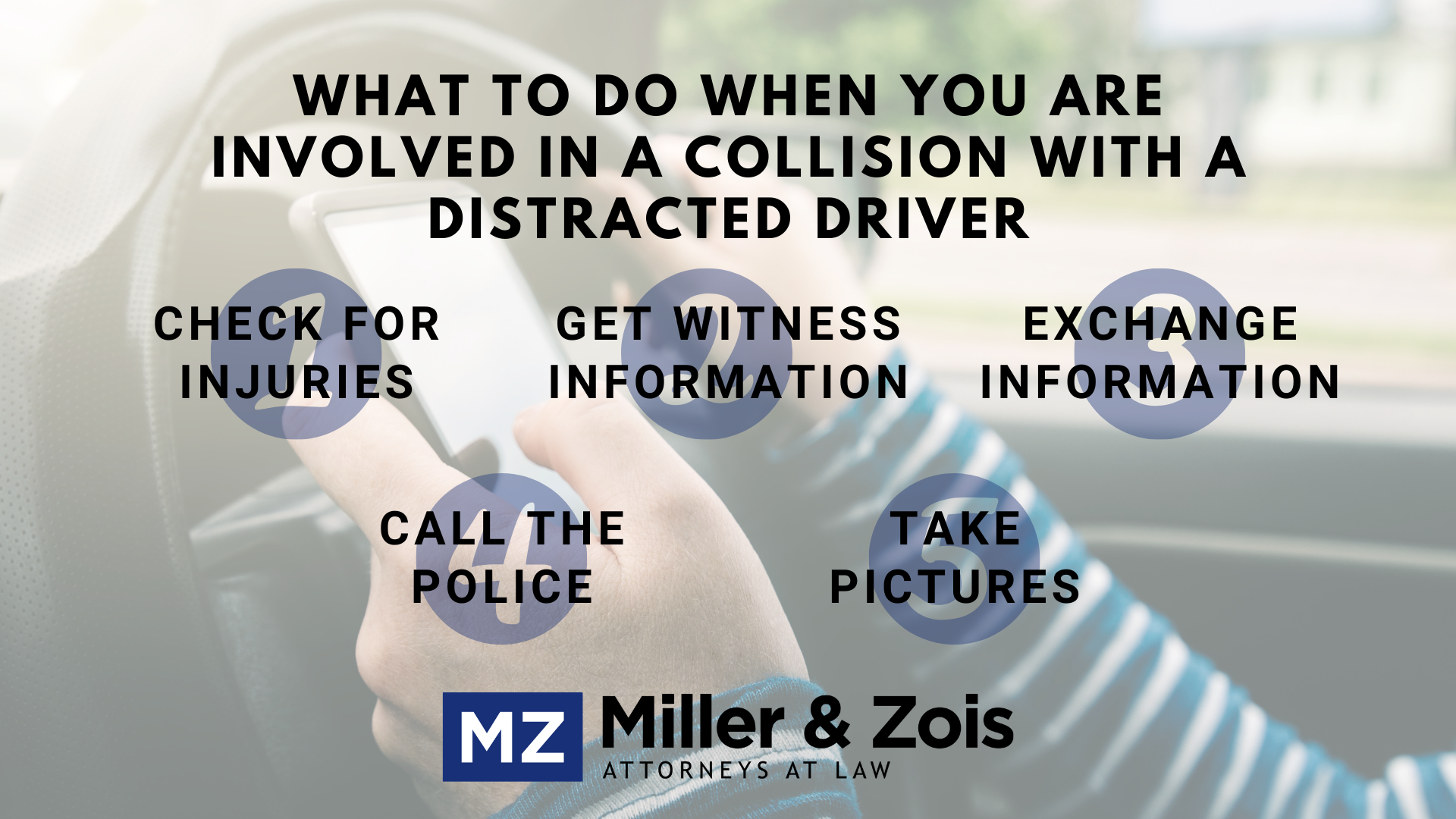 Distracted driving safety tips
 Almost everyone has committed distracted driving.  Some of us commit distracted driving in the first degree.  We know it is wrong and we can't stop ourselves. Here are a few ways to prevent this but they all require willpower or they are useless:
Only use your phone for emergencies. Safely pull over onto the shoulder lane before making or answering a call. Hands-free devices will continue to distract you from the wheel.
If you experience drowsiness, pull over. Drowsy drivers are four times more likely to be involved in a collision.
Limit how many passengers are in your vehicle. This is especially true for teen drivers. Driving with friends is risky for novice drivers because they are more focused on them instead of the road.
Refrain from eating while driving. This prevents you from pay attention to other drivers. Food spills are also a significant distraction.
Do not multi-task while driving. The only thing you should be doing while driving is focusing on the road and other drivers.
What to do when involved in a collision with a distracted driver
If a distracted driver hits you:
Check for injuries
Before exiting your vehicle, check for bodily injuries. You may be in shock, which delays your ability to notice your injuries until they worsen. If you identify any injuries, remain at the scene and immediately call the authorities. Please check your passengers for bodily injuries as well.
If you are not harmed, get out of your vehicle and check on all drivers involved.
Call the police
Even in a fender bender, call 9-1-1 immediately. This ensures proper documentation. It also ensures that all involved parties are properly dealt with whether harmed or unharmed.
Exchange information
As you wait for the authorities, exchange information with everyone involved. This includes names, addresses, telephone numbers, vehicle information and registration, insurance information, and injury complaints.
Take pictures
Always take as many accident scene photos as you can. Email them to yourself and loved ones to ensure you have multiple copies. This will be helpful if you need to file a lawsuit.
Get witness information
If you can identify witnesses, get their names, addresses, and phone numbers. (Your Maryland accident lawyer may thank you for this.)
Stay calm
You might experience anger and frustration immediately after being in a car accident. Please stay calm when speaking to the other driver, even if they were at fault.