The U.S. Department of Transportation (USDOT) has designated October as National Pedestrian Safety Month. The "virtual kickoff" for this first-ever Pedestrian Safety Month was held on September 29th.
USDOT Secretary Elaine Chao, National Highway Traffic Safety Administration (NHTSA) Deputy Administrator James Owens, Federal Highway Administration (FHWA) Administrator Nicole Nason, and others spoke at this event. They discussed the pedestrian fatality rate and potential reduction policies. This new safety awareness campaign comes eight months after a February 2020 report found that pedestrian fatality rates increased over the last decade.
Awareness of pedestrian safety is good, and the focus is long overdue.
GHSA Pedestrian Accident Statistics: A Spike in Pedestrian Deaths
In February 2020, the Governors' Highway Safety Association (GHSA) released its 2019 Pedestrian Traffic Fatalities by State report. The report revealed some concerning statistics and trends on the number of pedestrian deaths:
Pedestrian fatalities increased by 3 percent in 2019's first six months compared to 2018's first six months.
The rate of pedestrians killed in vehicle collisions increased by 5 percent between 2018 and 2019.
30 states experienced an increase in the pedestrian fatality rate.
About half (47 percent) of all pedestrian fatalities took place in five states. These states are Arizona, California, Florida, Georgia, and Texas.
New Mexico's pedestrian death rates were the highest, while Vermont's were the lowest.
Why Are Pedestrian Deaths on Increasing?
 The statistics in the GHSA report prompted the obvious question of why pedestrian deaths increased. The researchers noted several contributing factors to pedestrian fatalities that were outside of the state and local officials' control. They included, but were not exclusive to:
Economic conditions
Weather conditions
Time of day
Fuel prices
Population growth
Pedestrian smartphone use
Length of time individuals spent walking
Changing drug use patterns
These factors necessitate educating the public on pedestrian safety. They require both motorists and pedestrians to pay significant attention to their surroundings.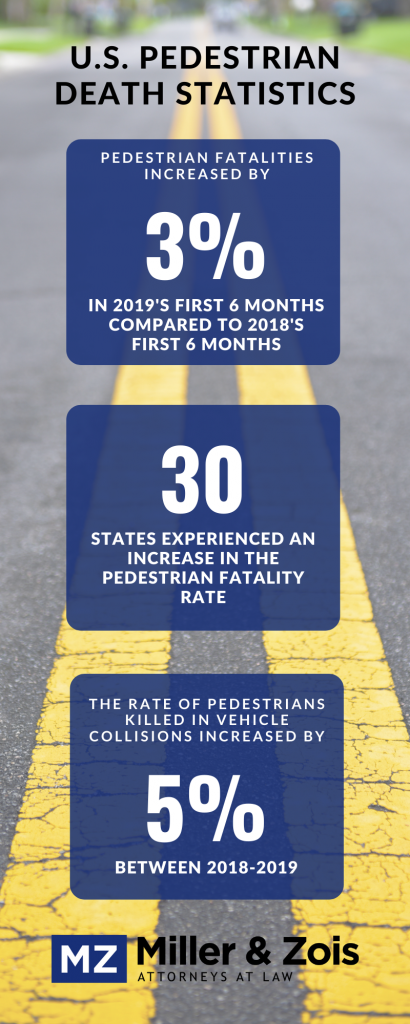 GHSA researchers also reported that the increase in light truck sales (e.g., SUVs, vans, and pickup trucks) is another significant factor. Because light trucks are heavier than passenger cars, they are more likely to seriously injure pedestrians. The report found that SUV-related pedestrian fatalities increased by 81 percent between 2009 and 2018. This contrasts with all vehicles, which only increased by 53 percent in the same period.
Some Positive Developments in Pedestrian Safety
Despite the overall increase in pedestrian fatalities, the researchers found promising trends for pedestrian safety, at least in some states:
Pedestrian fatalities in 20 states and D.C. decreased during the first six months of 2019 compared to the first six months of 2018.
Six states reported double-digit pedestrian fatality declines within the same period. These states are Arizona, Georgia, Louisiana, Pennsylvania, Illinois, and Mississippi.
Seven states also reported two straight years of pedestrian fatality declines. These states are Alaska, Colorado, Idaho, Kentucky, Rhode Island, and Wisconsin.
Pedestrian Fatality and Injury Reduction Efforts
 The report also examined the various laws, policies, and other government safety measures that certain states undertook in an effort to reduce pedestrian fatalities. The study found that some more effective safety efforts were those that directly targeted the underlying causes of pedestrian fatalities. They include
Increase police enforcement efforts
Public information campaigns
Educational outreach
Focusing on high-risk areas
Pedestrian safety audits
Engineering countermeasures
New Car Safety Technology May Help Keep Pedestrians Safe
 The report noted that the emergence of new safety technologies in vehicles could dramatically reduce pedestrian accidents.  This new vehicle technology is called pedestrian automatic emergency braking systems (PAEB) and it has the potential to make pedestrian deaths a rare event. Vehicles equipped with PAEB have sophisticated sensors that will automatically brake anytime a pedestrian is about to be hit. There are different types of PAEBs, but they all utilize some type of forward-looking sensors. Some PAEB sensors use motion or sensory cameras, while other systems are equipped with cameras and radar sensors.  PAEBs are proving to be highly effective and reliable and the NHTSA is now strongly endorsing them in new vehicles.
Pedestrian Death Rates and Halloween
Every accident lawyer in Maryland likes to write something about Halloween and pedestrian deaths.  But there is a reason for it.  Too many kids die on Halloween night. If there is one upside to COVID-19, it will be fewer pedestrian deaths on Halloween this year.
USDOT's designation of October as National Pedestrian Safety Month is appropriate because pedestrian deaths historically increase with Halloween. A January 2019 JAMA Pediatrics report found that Halloween was associated with a sharp spike fatal pedestrian accidents. Their data found that this increase was especially noticeable right around 6 PM. The researchers noted that poor infrastructure, public policy shortcomings, and traffic control issues contributed to this increase.
Halloween Pedestrian Safety
 The GHSA report offered a number of tips and reminders to help avoid pedestrian accidents and keep children safe during Halloween.
Children 12 and under should never trick-or-treat unaccompanied at night (after 5:30 PM).
Always bring a flashlight.
If possible, always walk on the sidewalk. When no sidewalk is available, please walk in the opposite direction of traffic. Keep as close to the side as possible, so you and your children can get out of a vehicle's way more quickly.
Always follow traffic rules. When approaching traffic signals and devices, follow them. Always look both ways before crossing the street.
 If you are driving on Halloween, please follow these safety tips:
Pay serious attention to young trick-o-treaters on roadways, sidewalks, and medians
Proceed through roadways with extra caution
At night, look out for trick-or-treaters with dark costumes
New, inexperienced drivers should not be driving on Halloween
More on Pedestrian Accidents
 If you want to learn about personal injury lawsuits involving pedestrian accidents and their average settlement value in Maryland; check out our page on pedestrian accident claims.